I've been obsessing with Star Citizen delivery missions. Video 1 and Video 2.
I thought maybe I could take two of them, and optimize my route. I was assuming that time spent going between planets was the longest. It might be, but just barely.
Upon examining video 2 in more detail (I didn't have a recording of my own), I logged timestamps and made a pivot chart:

So even if a bunch of packages are at the same location, the effort of walking them to the ship may not be that much worse than doing a extra flight. But theoretically, what would the sort be?
Well, DESTINATION port MUST come after SOURCE port.
Put the same port together if you can (sometimes you have to visit it twice)
Group the planets together? One less QT hop
So I tried it – Here's my work in progress –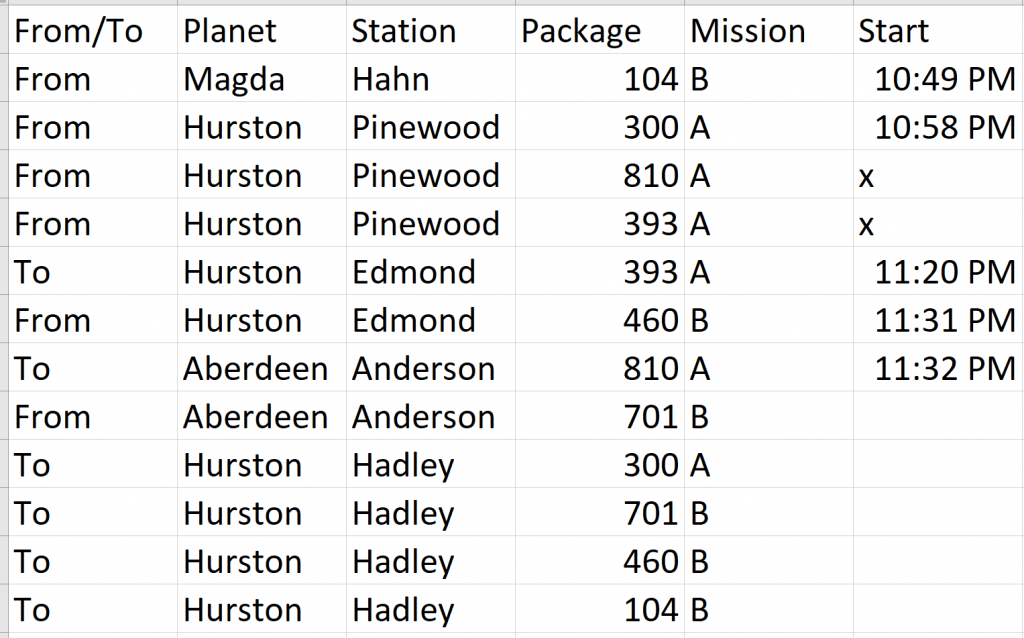 However, the game crashed on me, and I lost all the packages. So there's a good reason to get done with a simple mission first without thinking too hard about it. Oh, and Planetary maps at this link: https://www.reddit.com/r/starcitizen/comments/i3xhxr/3100ptu_sunrisesunset_triangulation_tool_and/
Ok, I might be off to try Mining thanks to Intergalactic Lan Party's awesome playlist!