Loving the game SpritFarer. Resource gathering, with a cute little story line, until you read the back story, and then who cut the onions.
Playing it my way — i got too many people on the boat, restarted, and now I'm separating out "gathering" from "action". Using a spreadsheet to guide me on what I need to get more of.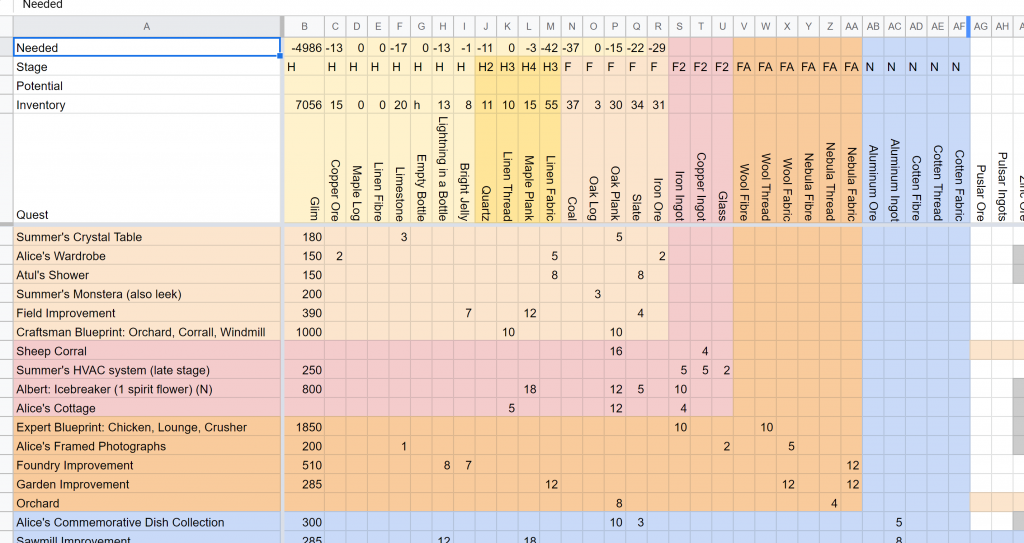 View only link to spreadsheet is here – as I satisfy things i cut and move them down. I thought about writing a helper app, but i don't have that kind of free time.
Speaking of free time.. this is the first evening in i-don't-know-when that i have had an hour or two to myself, AND i'm not exhausted and just need to veg out. Hence the post.
If i had all kinds of time, i could post about these technical things:
Powershell script to automate connecting to cisco vpn
Powershell script that runs a query against a database then checks if matching images exist and flags the ones that don't.
Surprise that you can't connect to a Azure File System from Windows Server 2008R2 because SMB 2.0 vs 3.0. Even more reason to upgrade those servers. The plan is to move those to the cloud.
The world of Epicor P21.
Fun times working with a company called Heraflux and its chief geek David Klee. That guy knows his stuff, he's the next level of whatever perfmon skills I used to have.
Designing a task-tracking system – we're separating out "popcorn" from "projects". Sounds familiar.
What happens when a SQL Server doesn't have enough RAM: the 88G vs 8G typo problem. 🙂
Various small problem – small tool/feature wins. But that would reveal too much of the business.
I could also post about these other things:
Color Changing Disney Pixar Cars .. the magic temperature is between 60 and 90 degrees, I think.
Challenging a grandchild to eat – if you finish one of these three things, you can choose another: 1 pretzel, 3 grapes, 1 pepperoni.
Outdoor pools might be simpler than I thought.
Awesome channel – Perkins builder brothers, YouTube.
I have seen Model Y in person and I still want it.
Be well!