I was driving myself crazy. I'd keep trying to guess how my car was doing. Did an experiment to put my brain to rest: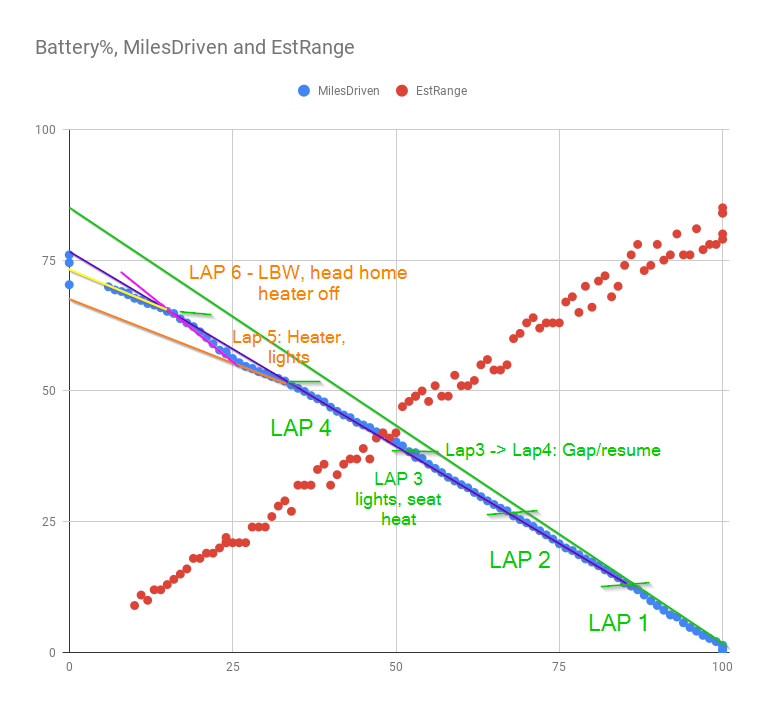 X-Axis is Battery% – that's why its right-to-left.
Y-Axis is either Trip-Miles or Estimated Miles, same units
This is a 2015 Leaf, 11 Capacity Bars. I don't have LeafSPY available at the moment (someone borrowed the dongle)
Eco Mode, temp 48 degrees (or so), dry.
Using Cruise Control at speed limit whenever possible.
The "Lap" was a 12.4 mile loop with TJ Unitarian at one end. Relatively flat; easy traffic; and fast (for me) charger to get me to 100% to start.
Laps 1 and 2 were without heater or lights; as was Lap 4.
Lap 3 – I turned on headlights, seat heater, and steering wheel heater. (but not the main heat)
Between Lap 3 and 4 – car sat for 2 hours as I attended the EvolveKY MeetUp.
Lap 4 done identical to laps 1 and 2 to verify pattery
Lap 5 – I turned on the heat (and headlights). It was 48 outside; inside set for 70, so only a 20 degree jump. Note that inside of car had been heated by sunlight already, not a cold morning start.
Lap 6 – I got the LBW just as I started it. Different route for the second part – I headed home.
Observations:
The car is optimistic for the first couple of miles. (green)

It would have gotten 84 miles, maybe, if it had stayed like that.

Eyeballing battery use and odometer leads to a pretty solid line – better estimation than the Guess-O-Meter which jumps ALL over the place.
I expected the heater to shunt the line over, but i did NOT expect it to "recover" (pink).
Looks like when LBW kicks in, a different estimation starts to be used that is more pessimistic. (yellow)
Then it stops giving numbers.
I got home at 74.6 miles, but later without charger drove around the block a few times, up to about 76 miles. Never got to Turtle. I suspect (based on age + capacity bars) my battery is mis-calibrated, and there's more than it thinks there is.
The first 3 laps all showed 4.5 miles per KWH. Using that number, puts me at 16 to 17 kWH of available battery for sure.
Using Seat Heaters and Steering Wheel Heaters .. could NOT tell the difference in the range. Yay!
I had been hoping that it would be colder.. my "range calculation" in my head (looking at odometer for 90%, 80%, 70%, etc) was giving me a 50 mile range or so. However, it was a nicer day.. Or the car knew it needed to perform.
If anybody wants to watch the boring data videos, they are https://youtu.be/Cjv03-F8TqI and https://youtu.be/nfHJhwyg4xs (assuming that the upload succeeds). Captured with a Hero6 in Timelapse Video mode.