Timelapse:  I tried to set up a timelapse of the mountain sunrise.  It didn't work right – It focused on the railing instead of the mountain, for starters. It was held up by a shoe on a chair. But it got a plan started for tomorrow.  
I love doing timelapses.. something about archiving a moment, capturing a pattern.
Coffee:  We walked across the street to the View Café, which serves Starbucks things.  I had a delicious Breve Latte.  Breve means "steamed half and half". Which is delicious. At home I drink half and half rather than whole milk. I tried drinking straight Heavy Whipping Cream (I made a song about that) but that did not work ok.
Side Adventure to Safeway: We needed .. stuff. We went and found a safeway. A lady with a big smile helped us. Bless her

Ravens by the window:  Molly fell in love with the Ravens that were swooping by our window.  We thought they were crows. You could almost quote us on that. But no, they were Ravens.
Pink Jeep Tour:  It was a thing.  It was interesting.  We were glad we only did a moderate one.. guide said the bumpy roads we were on were a 2.5 on the scale from 1 to 10 of how crazy the driving can get. 
Learned about Sedona Red Sand (Its not Rock!), and Geologic things, and a lot of interplay between tourists vs locals.   We learned that Jerome would be a fun place to visit, as well as Prescott, though we did not end up there.
Molly has a story about a horse drawn coach and a Guide not believing her.
Organic Plan Change:  Initially our plans were to hang out around Sedona and head back to Phoenix, but then I discovered that Meteor Crater was nearby. 
Meteor Crater.
From This Movie, Starman, 1984:
I've wanted to visit there ever since I saw it in the movie.   At the time, 14 years old? On my second trip to the United States? Nothing represented freedom and travel like that crater. It might also be my first ever "road trip" movie.
And here it was, so close.
So, My loving Spouse and I switched plans – more on that on Saturday's post.   The act of changing plans, negotiating and arriving on something we both want to do .. it was awesome. This also meant I had to figure out a charging plan. EV Trips: Plan! (at least for now) (Think of it like 1915, Gasoline infrastructure hasn't quite made it yet, but by 1925, it was done)
There was a good lunch at Miley's Cafe while we charged the car up for tomorrow's journey up to Flagstaff. I had the Miley Burrito. Folks at the table next to us asked us our review. I ate every bit of it.
Both on the way down to the SuperCharger and on the way back up, we tried to stop at the Chapel of the Holy Cross. There was nowhere to park the first time.. we did the loop of shame and continued down. On the way back, I dropped Molly off at the top, and drove back down, and way at the bottom, like 3 spaces from the exit, I found a spot. Molly walked back down to the car. Her story about that place. I liked standing in the heat observing the tourists.
There was a visit to (unspellable) (pronounced: T' Lakka Packy) shopping center – which I was reluctant to go to first, but once I was there, I fell in love with the decoration and ambiance.   
I had big hopes for the Chai place, but reality was not as delicious, my Mom makes better Chai. 😊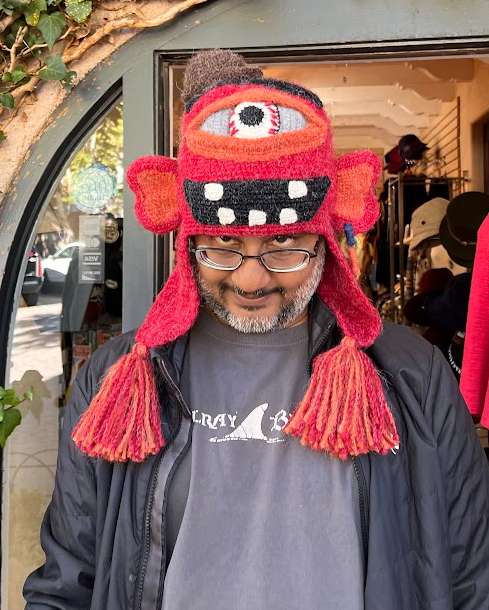 There was a bunch more wandering of shops .. being total tourists.  There was Honey, Tea, Sugar, Boba, and … I don't even remember. I had to ask Molly for this list. Maybe we were a bit crazy.
We ended up and WildFlower again, but they were out of the chowder, so I had a Tomato Florentine in a Breadbowl and it was delicious.
And then it was wind down time, setting up for tomorrow's early morning Timelapse adventure, and playing with some long exposures: